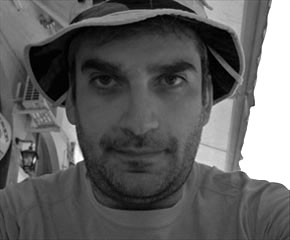 Yorgos Georgiadis
(photo by unknown)
My name is Yorgos Georgiadis and I was born in Thessaloniki, in 1971. Since childhood, I have passed behind the lens so I tested the journey from a Zenit with a normal lens and the darkroom's mystagogy to the present digital life.
During this journey, the equipment wasn't the only thing that changed, primarily changed the way I see and live the world around me which helps me to stand or ideally overstep the greedy reality.
I amateurishly photograph and exhibit and I am member of the photographic team "Photographers' Commune" and the online communities DPGR and Photomind.
In the 15th issue of ANTILIPSEIS magazine he participates with photos and text