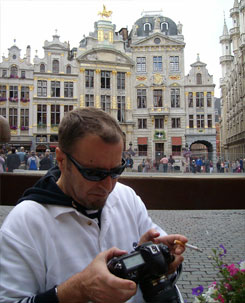 Franky Bizas
(photo by Eleni Damaskopoulou)
Born in Paros, from 2004 lives and works in Italy.
Studies in Photography and History of Art.
6 personal and 32 group exhibitions in Greece, Europe and South America.
Collaborations with many magazines. Prize awards and distinctions in photographic concourses and for the documentary film "Ealo i Polis" (the City has fallen).
Founder of the photo club FOTOGRAFOFILI.
Today gives lectures about the artistic photography and the photography of nude. Member of judging committees at photographic concourses and for art works selection for exhibitions and fine arts happenings.
Collaborates with the University of Perugia and organizes workshops and seminars around Europe.
His works are in Public and Private collections and in the French Museum of Photography.
more...
and more...
and more...
In the 18th issue of ANTILIPSEIS magazine he participates with photos and text