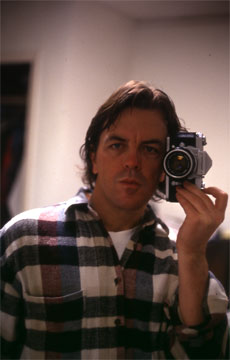 Robert Welsh
(photo by Robert Welsh)
Robert Welsh, born in Brighton (Boston), Massachusetts and has lived and worked in San Francisco since since 1989. He is an essentially self-taught professional photographer and a master of black and white and color printing.  A partial listing of solo exhibitions includes Griffin Museum of Photography, Winchester, MA, (Nov. 12 through January 10, 2010), Tepper Takayama Fine Arts, Boston, Fototeka, Los Angeles, Soho Photo Gallery New York, and Chinese Center of the San Francisco Public Library. He has participated in numerous group shows and juried competitions and was awarded First Place (Fine Art) at "New Photography", Los Angeles County, juried by Robert A. Sobieszek. Welsh's works are in the permanent collections of major museums including the Harvard University Art Museums, Brooklyn Museum of Art, Denver Art Museum, Griffin Museum of Photography, Museum of Fine Arts Houston. and the Worcester Art Museum. His bibliography includes the New York Times, "A Century of Colour Photography" by Pamela Roberts, and Andrew Deutsch, and Hedgehog Review, Spring, 2002, Institute for Advanced Studies in Culture of  the University of Virginia.
He is represented by Tepper Takayama Fine Arts.
more...
and more...
and more...
and more...
and more...
and more...
and more...
and more...
In the 18th issue of ANTILIPSEIS magazine he participates with photos