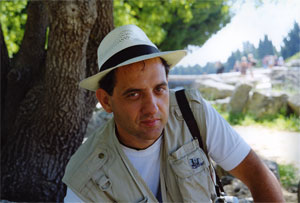 Dimitris Rizos
(photo by unknown)
Dimitris Rizos was raised up in Chalandri, Athens. In 1979, he graduated from the Department of Photography, of the school AKTO and in 1990, he graduated from the Department of Cameramen, of the school Stavrakos. He has worked as a photographer at DEI (Public Electric Company), since 1996. He has participated in group exhibitions, in Greece and abroad.
He has been occupied with photography, mostly B/W but also colour, for the last 30 years, industrial photography, portrait, landscape and street photography and panoramas.
He travels a lot, in Greece and Europe, recording the everyday life of people, the nature, the urban space, the detail and whatever words cannot describe.
more...
In the issue 21 of ANTILIPSEIS magazine he participates with photos and text