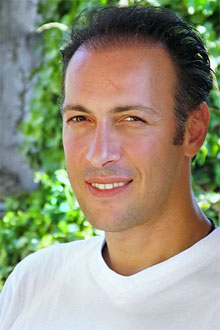 Dimitris Sfaellos
(photo by unknown)
He was born in 1966, in Athens.
After high-school, from 1983 to 1985, he was studying Biochemistry at McGill University, in Canada but he interrupted due to financial reasons and came back in Greece where he started doing Photography as a favorite hobby...
From 1986 to 1988, he did his military service.
Right after, he started his studies at the Department of Photography, Technological Educational Institute (T.E.I.) of Athens, until 1992, when he finished the courses. He made his diploma work in 1993 and his practice in 1994, the year he graduated!
Professionaly, he started in 1990 but only after finishing his studies, in 1994, he founded his own studio...
His main activity was and is the Advertising Photography, in any form, and with specialization in products, cosmetics, jewels, architectural photography, and panoramas for catalogues, advertisements and websites!
The last years, he has also been occupied with Wedding photography, working with them, as possible as it may be, as advertising work!
From 1995 and for almost a decade, he made a great success, with costumers big multinational companies as well as smaller ones...
In 1996 till now, he has been occupied with digital processing and after 2000, he altered his studio to an advertising office, with photography in the main focus!
dimsfa@gmail.com
more...
and more...
and more...
In the issue 23 of ANTILIPSEIS magazine he participates with photos