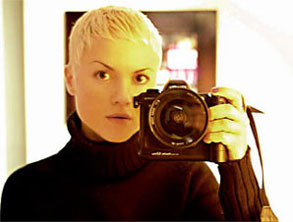 Irini Michopoulou
(photo by Irini Michopoulou)
She was born in Patra, in 1972.
She finished high-school with specialization in graphic design. After working as a graphic designer she turns to photography. She studied photography at E.M.E.F, E.S.P. and at the institute for professional training I.I.E.K. Leica Academy.
Her work (on photography and graphic design) has been published in many printed materials like: Month of Photography-book, Vima-newspaper, Ta Nea- newspaper, Fotografos-magazine, Kyriakatiki Eleftherotypia-newspaper, Fotografia-magazine. She has participated in group exhibitions for Graphic Design and Photography and also in the 4th, 5th and 6th Exhibition of Young Greek Photographers.
She has presented personal exhibitions enlisted in Photosynkyria (Thessaloniki) and at the Gallery-restaurant 'Thiasos' (Athens). Her work -artistic still life- is presented in a lasting exhibition in Fine Palate studio (Singapore, Asia). She has traveled in Asia and Europe either for work or photographing. The last years, she works as a professional photographer on Portraits, Theatre, Fashion, Interiors and Artistic Photography.
more...
and more...
and more...
and more...
and more...
In the 3rd issue of ANTILIPSEIS magazine she participates with photos and text